'Family Day' is officially one week away! We know you've probably had more than enough quality time with your household during quarantine, so we wanted to share a few secret recipes from Chef Shelli to help liven up the scenery. A holiday that might typically be spent at the movie theatre or your favourite restaurant, is now spent within your family home. Long Point Eco-Adventures is here to make sure this Family Day is as memorable as the next!

Who's ready for a local cooking adventure? Continue reading to uncover the perfect Family Day meal you can try with your loved ones this coming Monday. Make a challenge or competition of it; for example, make one member of your family responsible for each course, and see who concocts the tastiest dish!
Feel free to send us pictures of how your Chef Shelli recipes turned out; we would love to see how you tackled each dish.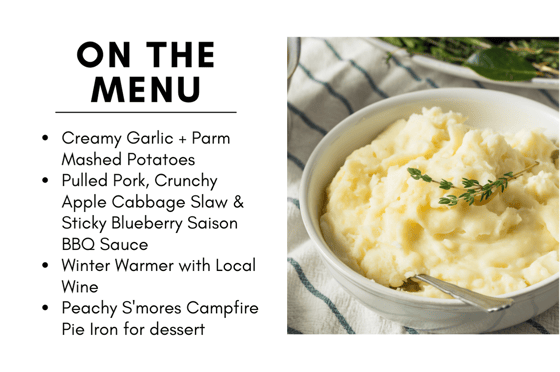 A Winter Warmer
(Adults Only)
Ingredients:
1 Bottle of Wine, your choice of red or white
-opt for a local brand, such as Burning Kiln Winery or Inasphere.

1 Peeled and Sliced Orange; remove the skins to reduce bitterness.

Whole Spices; 4-6 Whole Clove, 3-4 Star Anise, 2 Cardamon Pods and 1-2 Cinnamon Stick

Directions:
1. Combine the ingredients into a sauce pot.
2. Bring to a Simmer. Do not boil, or you will boil away the alcohol.
3. Once up to a simmer, reduce heat to low and cover. Allow to simmer for up to three hours. You can also pour into a crock pot and let it sit on low all day! An easy grab and go warmer for the winter.
4. Give it a taste; add any extra spices or dried fruit for an extra special garnish. Store in your fridge in an airtight container, and transfer to a mug for reheating when you're ready to enjoy!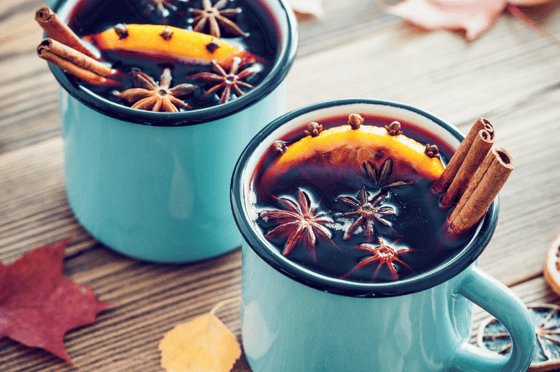 The Apple Cabbage Slaw
(Because your pulled pork needs a garnish)
Ingredients:
Half of a fresh green cabbage

3 granny smith apples

1 red onion (if the kids aren't huge on onion, you can reduce the quantity slightly)

2 cups mayonnaise

1/3 white vinegar

1/4 cup of sugar

salt and pepper to taste




Directions:
1. Remove the core of the cabbage. Cut the half of the cabbage into another half.
2. Slice the cabbage into thin slices; put into a large mixing bowl.
3. Cut the cores out of each apple. Cut into thin wedges; add to your mixing bowl.
4. Cut both ends of the red onion off and remove the peel. Cut halves into thin slices. Add to your bowl with cabbage and apple.
5. In a separate bowl, whisk together mayonnaise, white vinegar, sugar, salt and pepper.
6. Pour your dressing over the apple, cabbage & onion. Mix until completely covered in sauce. Store in your fridge in an air-tight container until meal time.
Sticky Blueberry Saison BBQ Sauce
(Because what's pulled pork without a delicious, sticky sauce)
Ingredients:
2 cups of ketchup

2 tbsp vegetable oil

1 cup apple cider vinegar

5 tbsp brown sugar

2 tbsp honey

2 tbsp worchestershire sauce

4 tbsp Frank's Hot Sauce

8 tbsp yellow mustard

3 tbsp smoked paprika

4 tbsp minced garlic

1 large minced onion

2 cans of Hometown Brew Co. Blueberry Saison Beer


Directions:
1. Bring a medium sized stock pot to low heat. Use 2 tbsp of vegetable oil to cook down the minced onion and garlic. Ensure you are cooking until the onion & garlic is soft.
2. Add in Blueberry Saison beer and continue to simmer until reduced by two thirds.
3. Add remaining ingredients to the pot. Simmer your sauce on medium to low heat until the BBQ sauce has become thick and sticky. Cover until you are ready to use your sauce on your pulled pork.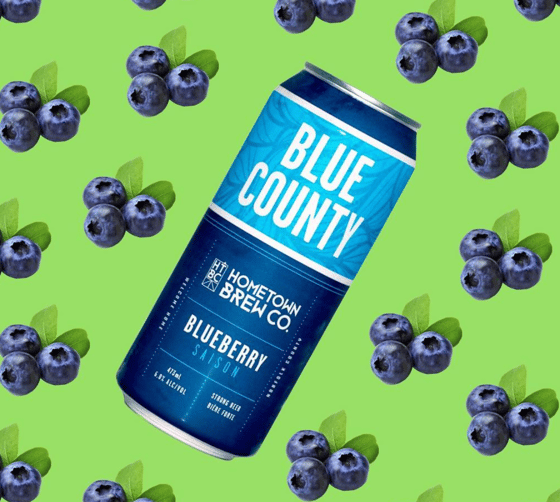 BBQ Pulled Pork
(the main contender)
Ingredients:
5-10lb Pork Butt;

Dekoning Meats

and

Norfolk Packers

are known for their Pork Selection
2 cups of beef stock
Sticky Blueberry Saison BBQ sauce (recipe above)
Crunchy cabbage and apple coleslaw (recipe above)
Soft brioche or kaiser rolls
Directions:
1. Cook the pork butt in either a large crock pot, or roasting pan at 325 F.
2. Rub salt and pepper on all parts of the Pork Butt to bring out flavour while cooking. Use 1 cup of BBQ Sauce and 2 cups of stock to cook the Pork Butt. This will take approx. 6-8 hours in a crock pot; or 4-5 hours in the oven. If cooking in the oven, ensure the pan is sealed with tin foil to keep that moisture in. Do not let the liquid to cook off and dry out.
3. Once the pork is tender, you should be able to pull apart with forks. Shed meat.
4. Add in the rest of the BBQ Sauce to make it nice and saucy!
5. Serve up on a soft bun, topped with your homemade cabbage and apple coleslaw.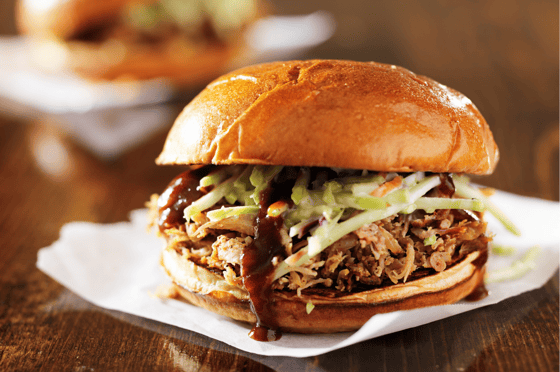 Garlic & Parmesan Mashed Potatoes
(Everyone needs a comforting side dish)
Ingredients:
4-6 large russet potatoes

2 cups of heavy cream (10-18% will work fine)

2 tbsp of minced garlic

2-3 fresh thyme sprigs (or 1tbsp dried thyme)

1/2 cup of butter
1 cup grated parmesan cheese
Directions:
NOTE: Start boiling your potatoes when there's approx. 45 minutes of cook time left on your pulled pork)
1. Peel & dice your russet potatoes. Then, put your potatoes in a medium sized stock pot, cover with cold water & 2 tsp of salt; bring to a boil.
2. Meanwhile, place your cream, minced garlic, thyme sprigs and butter into a small saucepan. Bring to a simmer so you infuse the flavours into the cream & butter mixture.
3. Once your potatoes have boiled and are 'fork tender', strain your potatoes and put them back into the medium pot.
4. Strain your cream and butter mixture so you don't have chunks of thyme in your potatoes. Then add the strained cream & butter to your potatoes and mash.
5. Once your potatoes are mashed, add 1 cup of grated parmesan. DO NOT OVER-MIX to avoid mashed potatoes that are a sticky, pasty consistency.
6. Season with salt & pepper to taste; serve alongside your pulled pork sandwich.
Toasty S'mores Campfire Pie Iron
(What's dinner without dessert?)
Ingredients:
1 loaf of buttermilk bread from

The Good Bread Company
1 bag of Marshmallows
4 Aero chocolate bars
1 stick salted butter
Whipped cream and caramel syrup to top it off
Directions:
1. Get your campfire going! You want it to be a well-established fire, so you have even heat to cook your pie iron sandwich.
2. Use a pie iron to build your campfire s'mores in.
3. Butter the sides of the Buttermilk Bread that will touch the cast iron. This will ensure a nicely toasted and crisp outside of the sandwich.
4. Now it's time to build your dessert! Layer marshmallows and chocolate between the buttered buttermilk bread.
5. Toast up that Sammie!! Rotate your pie iron so both side of the bread toast. Cook it long enough for your marshmallows and chocolate to melt, and the outside of the sandwich to get nice and toasty.
6. Remove you s'mores sandwich from the pie iron, top with ice cream and caramel and dig in!